After months of collaboration with researchers from around the world, the CFIDS Association is proud to publish the Science and Research of CFS. This special issue of the CFIDS Chronicle covers CFS research findings, profiles of key investigators, input from international researchers, a review of current best treatment practices and stories about patients and families coping with the illness.
Here is a complete listing of the articles in this 65-page special issue, including links to several sample articles with references.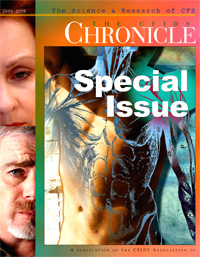 EPIDEMIOLOGY
The face of CFS in the US
By Leonard A. Jason, PhD, Susan R. Torres-Harding, PhD, and Mary Gloria C. Njoku, MA, DePaul University
What does CFS look like? Is it male or female, Caucasian, African American or Latino? Is it someone who has been sick for 15 months or 15 years? Lead researchers on CFS epidemiology paint a picture of the demographics and scope of the illness in the U.S.
ETIOLOGY
Immune System Gone Haywire?
By Susan Levine, MD
Vigorous research has explored immune dysfunction in CFS. Learn key findings that have come from this effort, including immune abnormalities contributing to the origin and maintenance of the disease.
Is sleep the root of CFS Evil?
By Vicki Walker, Guest Contributor
What role do sleep abnormalities play in CFS? Could sleep dysfunction cause the illness, or does the illness cause the sleep problems so many with CFS experience?
Is CFS a brain disorder?
By Gudrun Lange, PhD, UMDNJ-New Jersey Medical School
The cognitive problems of CFS patients have spurred numerous brain studies. Although data is not consistent, research confirms both structural and functional brain abnormalities.
ASPECTS OF THE ILLNESS
Reproductive issues
By Pamela Young, Director of Publications, CFIDS Association of America
In a disease that affects three to five times more women than men, relatively little direct research has focused on the gynecological ramifications of CFS. This article provides an overview of the research to date and some of the things we do know about pregnancy and gynecological abnormalities.
TREATMENT
Pharmalogical treatmens for CFS
by Loretta Spotila, PhD
Join Loretta Spotila, PhD, in an overview of pharmacological treatments for CFS, including prescription drugs, nutritional supplements and herbal remedies. Spotila also details highlights from research into specific treatments. This article is provided as bonus content to accompany the treatment section of the Science & Research of CFS, a special issue of the CFIDS Chronicle.